Speaker
Jeanine MABUNDA LIOKO MUDIAYI
President of the National Assembly - Democratic Republic of the Congo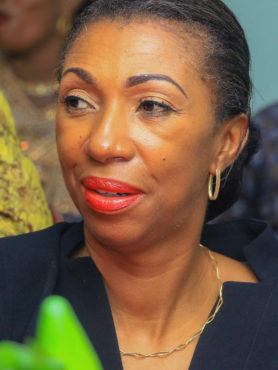 Jeanine Mabunda Lioko Mudiayi is since April 2019, the Speaker of the National Assembly of DRC and is also a reelected Member of DRC Parliament from the territory of Bumba. From 2007 to 2012 she was Minister of Portfolio and Public Enterprises. In 2014, she was appointed President's Special Advisor and Representative in charge of the fight against sexual violence and child recruitment into armed groups in the DRC.
She holds a law degree from the Catholic University of Louvain, a business degree from the Catholic Institute of Business Studies (ICHEC) in Belgium and has a decade experience and career in economic sector. In 1988, she worked at Citibank Congo as an account officer in charge of relations with major accounts and credit analysis. From 1993 to 1995, she oversaw the commercial management of African System (ASYST). From 1997 to 2000, she was an advisor to the Governor of the Central Bank of Congo (BCC).  From 2002 to 2007, she was CEO of the Industry Promotion Fund (FPI).
In 2014, "Jeune Afrique" listed Ms. Mabunda as one of the 50 most influential African women. In 2016, Monaco granted her the Better World Award in recognition of her contribution in the fight against sexual violence and abuse.