Intervenant
Rodolphe SAADÉ
Chairman and Chief Executive Officer - CMA CGM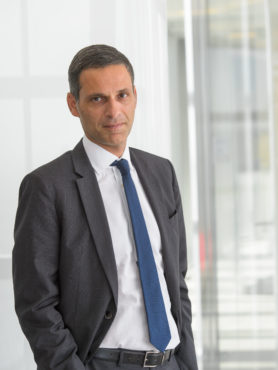 Rodolphe Saadé is Chairman and Chief Executive Officer of the CMA CGM Group. Having obtained a Bachelor's degree in Commerce & Marketing from Concordia University in Montreal, he founded Dynamics Concept, a company selling water coolers based in Lebanon.
In 1994, he joined the CMA CGM Group, led by his father Jacques Saadé. He worked in particular in New York and then in Hong Kong, before moving to the shipping company's head office in Marseilles.
From 1997 to 2000, he successively headed different shipping lines before taking the Transatlantic and Transpacific lines under his responsibility.
Appointed Vice Chairman and member of the CMA CGM Group's Board of Directors in 2010, he oversaw the financial restructuring of the Group.
In 2015, Rodolphe Saadé conducted the voluntary general cash offer for Neptune Orient Lines (NOL), a Singapore-based container shipping company, and became President of NOL's Board of Directors in June 2016.
In September 2016, Rodolphe Saadé was distinguished as the Newsmaker of the Year by the Lloyd's List magazine for his vision of the shipping industry, his key role during the unprecedented round of consolidations and the reshuffling of maritime alliances currently taking place.
In December 2016, the Saadé family ranked 4th on the Lloyd's List One Hundred, listing the most influential people of the shipping industry.
In November 2017, Rodolphe Saadé was appointed Chairman of the Board of Directors in addition to his current responsibilities as CEO.