9 Jul 2017
From Global Inequality To Global Solidarity
Session 27
At first glance, the international community appears to have been able to implement extremely successful global solidarity initiatives, whether they aim to lower extreme poverty, increase child school enrolment or reduce infant mortality. In September 2015, the United Nations General Assembly unanimously adopted a list of 17 ambitious sustainable development goals with commitment from countries in both the Global North and South to work together for the first time on global challenges.
However, this global solidarity is now under attack from all fronts. Even as inequality drops globally, it is rising in advanced and emerging economies. Slowed economic growth and terrorist threats underline the costs of poorly controlled globalization and lead many to question its benefits. Frustration is aimed not only at globalization's new frontiers – especially migration – but also at more traditional trade issues and constraints that weigh on nation states. Populist and nationalist complaints call into question the established thought patterns and the institutions that have formed the foundation of collective globalization management. While international and national solidarity used to be thought as complementary, they are frequently considered to be antinomic.
To address these issues, this round table will tackle four sub-themes: the dynamic of global inequality and its implications; the viability of a difficult co-existence between several areas of solidarity beyond the nation state; the governance challenges of globalization, especially with regard to migration; and the role and means of public and non-state actors (NGOs, businesses and philanthropy) in working together to install global solidarity despite a political and financial context that is not conducive to public commitments.
Coordination
Pierre JACQUET
Membre
Cercle des économistes
Biography
Moderator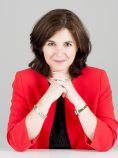 Béatrice MATHIEU
Deputy chief editor
L'Express
Biography
Speakers
All the speakers