Speaker
Guillermo PERRY
Former Minister of Finance - Colombia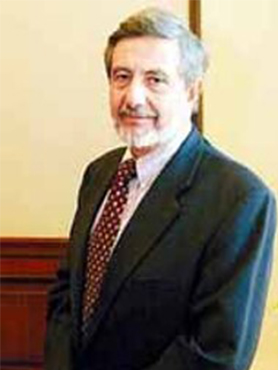 Guillermo Perry is presently a Professor at the School of Economics at Universidad de Los Andes in Colombia, a Non Resident Fellow at the Center for Global Development, Washington D.C and a senior external advisor to the President of CAF. He was formerly the Chief Economist for Latin America and the Caribbean at the World Bank from 1996 to 2007 and Minister of Finance and Public Credit (1994/96) and of Mining and Energy (1986/88) in his home country, Colombia. He was also Director of Colombia's two leading economic think-tanks,  FEDESARROLLO and the Center for Economic Development Studies (CEDE), a Visiting Fellow at St Anthonys College at Oxford University (1977/78) and Robert F. Kennedy Visiting Professor at the MPA-ID program in the Kennedy School at Harvard University (2010/11).
He is or has been a member of various Boards and Advisory Committees, such as: the Global Development Network (GDN) Governing Body, the Latin American Advisory Committee of the Woodrow Wilson Institute, the Executive Committee of the Latin American and Caribbean Economics Association (LACEA), the Board of Directors of FEDESARROLLO, Universidad de Los Andes, Financiera de Desarrollo Nacional, Banco de Bogotá, BAC Credomatic, Ecopetrol, ISA, Empresa de Energía Eléctrica de Bogota and Colgener. He has also served in several Government appointed Advisory Commissions (Intergovernmental Public Finances -1983-, Employment -1990-, Capital Markets -1994-, Infrastructure -2012- and Tax Reform -2015-).
He has had broad consulting experience around the world in public finances, tax, energy policy and industrial policies, through the previous Harvard Institute for International Development (presently CID), the World Bank, IDB and other institutions.
Mr. Perry attended the Ph.D. program in Economics and Operational Research at the Massachusetts Institute of Technology (1968-1973).
Born in Bogota, Colombia on October 13, 1945, Mr. Perry is married to Claudia Saenz Obregon.  He and his wife have two children, Juana and Antonio.
Publications:
Books
Building a Latin American Monetary Fund (ed),(Fondo Latinoamericano de Reservas, 2014)
Towards Teaching Excellence (coauthor), (Fundación Compartir, 2013).
Oil and minerals: Blessing or Curse? (coauthor), (Fedesarrollo/World Bank, 2012).
Recent articles
¨Towards a Latin American Monetary Fund¨, in Building a Latin American Monetary Fund (ed),(Fondo Latinoamericano de Reservas, 2014)
¨Mining Taxation in Colombia¨, (coauthor), Social Policy School Papers, University of Calgary, and CEDE Working Papers, 2014
Contributions