Speaker
Ghassan SALAMÉ
Former Minister of Culture, Lebanon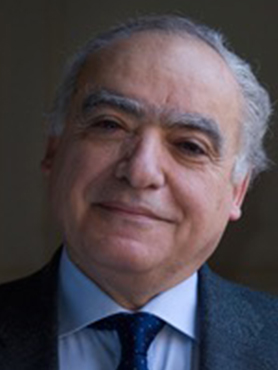 Ghassan Salamé is professor of International Relations Emeritus at Sciences Po Paris.
Born in 1951 in Lebanon, he studied Law, Humanities; and Political Science. He taught international relations at the American and Saint-Joseph universities in Beirut (1978/85). In 1985/6 he was Rockefeller Fellow in international relations. He joined Sciences Po in 1986 where he was the founding Dean of its Paris School of International Affairs/PSIA.
He has also been a visiting professor at Columbia University (New York), Mgimmo (Moscow) and a few other universities.
In 2000-2003, he was Lebanon's Minister of Culture; Chairman of the Organization Committee and Spokesman for the Arab Summit that launched the Arab Initiative for peace (March 2002) and for the Francophone Summit (October 2002) in Beirut.
He joined the United Nations in May 2003 as Political Advisor to the UN Mission in Iraq (2003) and, later, as Senior Advisor to the United Nations Secretary-General (2003-2006).
He has been active in a number of leading NGOs across the world: co-chairman of the board of the International Crisis Group (Brussels) and founding chairman of the Arab Fund for Arts and Culture (Beirut). He also sits on the Council of the International Institute for Strategic Studies (London) and a few other not-for-profit organizations.
He is the author of (inter alia) Quand l'Amérique refait le monde; Appels d'empire; State and Society in the Arab Levant, Democracy Without Democrats; The Politics of Arab Integration and The Foundations of the Arab State. His essays have been published in scholarly journals; his columns in leading newspapers.
He was given the Phenix (Beirut) , ADELFI (Paris) and Al-Idrissi (Rome) awards and the Medaille of the Academie francaise (2003), made chevalier de la Legion d'honneur (France 2004), bestowed a Honoris Causa Doctorate from LAU (2015) and named the 'The Arab Cultural Personality of the Year', ( 2005).