Speaker
Eduardo GOUVEA VIEIRA
President - Federation of the Industries of the State of Rio de Janeiro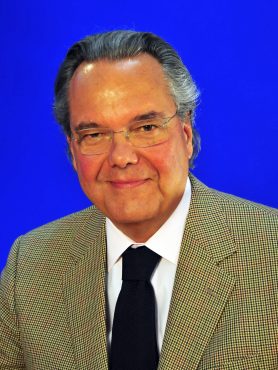 EEGV holds a B.S. in Engineering from Rio de Janeiro State University, is President of the Federation of Industries of the State of Rio de Janeiro since 1995 and CEO of Gouvêa Vieira Invest Ltda.
He has been Chairman of Deliberative Council of National Organization of the Petroleum Industry since 1999; founder and Chairman of QGN – Carbonor (Church & Dwight Group) and member of Boa Esperança S.A. board of directors.
He is a member of the National Academy of Engineering and the Board of Directors of the Community Action of Brazil; member of the Superior Council of FIOCRUZ and Pontifical Catholic University of Rio de Janeiro.
He was a member of the Board of Directors of Empresas Petróleo Ipiranga for almost 40 years and President of the Brazilian Association of Chemical Industry.
He took active part in the process of privatization of petrochemical companies in Rio Grande do Sul and São Paulo; of inorganic chemistry and fine chemical companies in Camaçari, Bahia, through Gouvêa Vieira Invest Ltda.
EEGV was member of the Board of Directors in many companies such as Banco Sogeral, Arcelor Brasil, SHV Brasil, Nuclebrás Equipamentos Pesados and FINAME. For almost 20 years he sat on the Board of Directors of BNDES, the Brazilian Development Bank,.  He was also member of the Economic Social Development Council, an advisory agency of the Presidency of the Republic.
In 2014, he became Chairman of the Advisory Board of SBM Offshore Brasil.
EEGV is Commander of the "Ordem de Rio Branco", Chevalier de la Légion d'Honneur and Officier de l'Ordre National du Mérite de la République Française. In May 2016 he was appointed President of the Brazilian Section of Légionnaires d`Honneur, which assembles Brazilian citizens decorated with both the Légion d´Honneur and Ordre National du Mérite.