Intervenant
Mark HUTCHINSON
President & CEO - GE Europe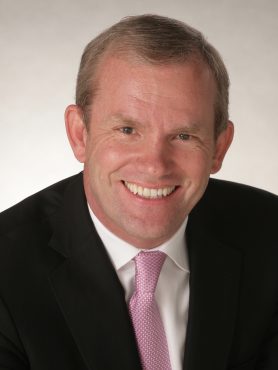 Mark Hutchinson is President and Chief Executive Officer of GE Europe, and a GE company officer. He is responsible for managing GE's European activities and leading the efforts to strengthen GE's operations across Europe. In addition, he retains his current position of Integration Leader for the Alstom transaction, GE's largest-ever industrial acquisition with 65,000 employees.
Prior to his appointment, Mark was President & CEO, GE Greater China, responsible for GE's growth strategy and leading a team across manufacturing, sourcing, sales and other functions. During his tenure in China, Mark developed and executed a shared growth strategy for all the GE businesses helping to drive double-digit growth, year-over-year, under his leadership.
Prior to joining GE China, he was president of GE Capital Real Estate, International where he led the Real Estate team in Europe and Asia successfully through a dramatic cycle. During his decade-long stint as a leader of GE's capital markets team, Mark successfully led a host of complex transactions in North America, Europe, and the Pacific Rim.
Prior to joining GE, Mark was head of the Asian project advisory team, based in Hong Kong, for Barclays Merchant Bank. The successful privatization of Western Harbour Crossing and the Route 3 Project, both key elements of Hong Kong's infrastructure development, was a central accomplishment during his tenure.
A native of England, Mark graduated from the University of Queensland in Brisbane, Australia where he was awarded a Doctorate of Business.
About GE
GE (NYSE: GE) is the world's Digital Industrial Company, transforming industry with software-defined machines and solutions that are connected, responsive and predictive. GE is organized around a global exchange of knowledge, the « GE Store, » through which each business shares and accesses the same technology, markets, structure and intellect. Each invention further fuels innovation and application across our industrial sectors. With people, services, technology and scale, GE delivers better outcomes for customers by speaking the language of industry. www.ge.com