Intervenant
Luc MONTAGNIER
Nobel Prize in Physiology and Medecine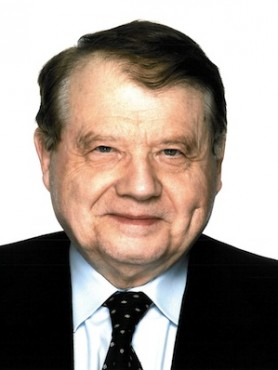 Professor Luc Montagnier graduated in both Medicine and Biological Sciences at the University of Paris. At the age of 23, he became Assistant Professor at this University. After a fruitful post-doctoral stay in two British laboratories, he spent most of his scientific carrier in two renowned French Institutions, at the Institute Curie, and for almost 30 years at the Institute Pasteur in Paris. Within the new Department of Virology of the latter Institute, he founded the Viral Oncology Research Unit which devoted its activities to 1) the study of cancer viruses, mostly the oncogenic retroviruses, 2) the biochemical aspects of interferon and, 3) the biochemical aspects of malignant transformation, including membrane changes in cancer cells in relation to their growth in soft agar, at that time a new property of cultured malignant cells, in the discovery of which Montagnier played a major role.
In 1983, he led the team that first isolated the Human Immunodeficiency Virus (HIV1) and brought the first evidence that this virus was the causative agent of AIDS. In 1985 he also isolated the second AIDS virus, HIV2, from West African patients.
Montagnier's laboratory was the first to show that a large fraction of white blood cells of HIV infected patients was prone to die by apoptosis, a process of programmed cell death. He and his team attributed the origin of this apoptosis to the abnormal activation of the immune system, itself caused by the oxidative stress occurring in the patients, possibly associated with co-infections.
His current work focuses on the diagnosis and treatment of microbial and viral factors associated with cancers, neurodegenerative and articular diseases, using innovative technologies.
Since 2005, as President-CEO and co-founder of several biotech companies, he and his team developed a new biophysical technology detecting electromagnetic waves induced in water by DNA from pathogenic bacteria and viruses in the blood of patients suffering from chronic degenerative diseases. In the case of HIV infection, he showed that this technology can detect HIV DNA in patients treated by antiretroviral therapy and having no detectable viral load in the blood. More recently he indeed identified a bacterial co-factor in red blood cells which appears to be always associated with HIV infection.
This discovery opens the way to designing new treatments aimed at functionally eradicating HIV infection.
A strong advocate of preventive medicine, Montagnier is especially concerned with prolonging the active life of aging people.
Beyond his scientific interest is his deep involvement with helping developing countries acquire knowledge of and access to modern medicine and preventive medicine. As President of the World Foundation for Aids Research and Prevention, he has co-founded two Centers in Africa – in Côte d'Ivoire and Cameroon – for the prevention, treatment, research and diagnosis of AIDS.
Luc Montagnier was awarded many Prizes, including Prix Rosen (1971), Gallien (1985), Korber (1986), Jeantet (1986), the Lasker Prize in Medicine (1986), the Gairdner Prize (1987), Santé Prize (1987), Japan Prize (1988), King Faisal Prize (1993), Amsterdam Foundation Prize (1994), Warren Alpert Prize (1998), Prince of Asturias Award (2000) the induction to the National Invention Hall of Fame /2004). He is Commander of the National Order of Merit (1986) and Grand Officer of the Legion of Honour (2009)
In 2008, he has been awarded the Nobel Prize for Physiology and Medicine, for his discovery of HIV, together with Françoise Barre-Sinoussi.
He is the author or co-author of 350 scientific publications and of more than 750 patents.